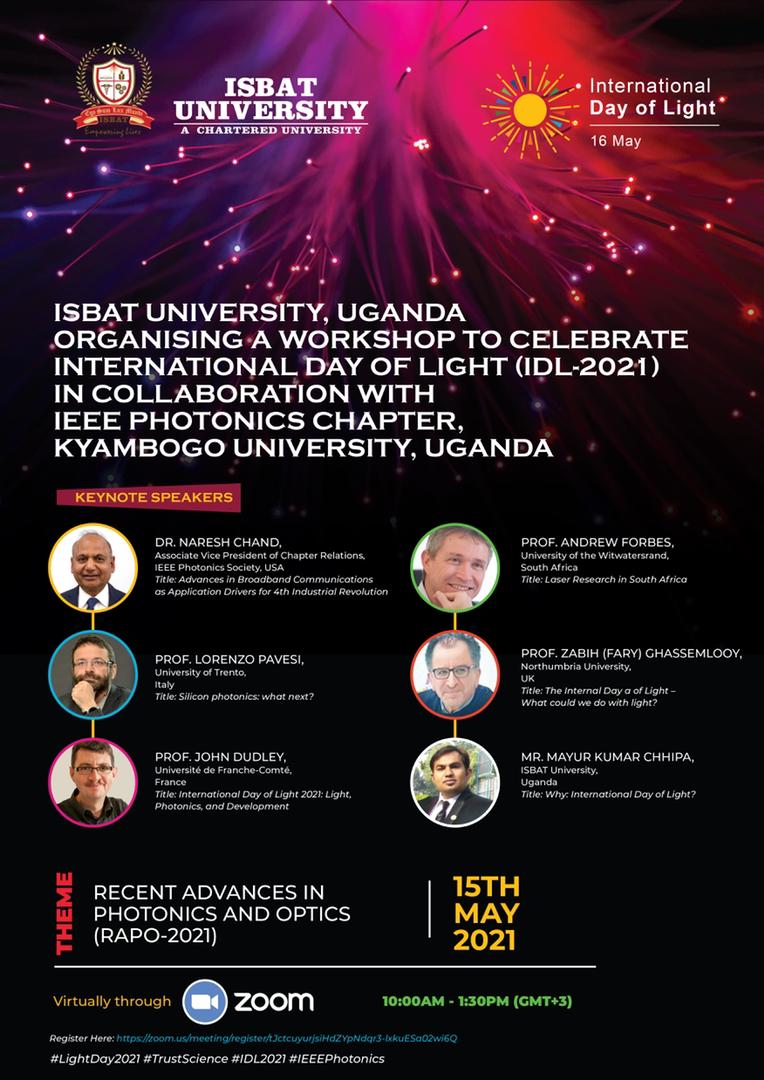 The Department of Electronics and Communication Engineering, Faculty of Information and Communication Technology (FICT), ISBAT University, Kampala in collaboration with IEEE Photonics Chapter, Kyambogo University, Uganda, is organizing a workshop on theme Recent Advances in Photonics and Optics (RAPO-2021) to Celebrate International day of Light (IDL-2021). The Workshop will be held virtually and in physical with limited number on May 15, 2021, at ISBAT University, Kampala, Uganda.
The workshop timing is 10:00 AM to 01:30 PM as per (East Africa Time zone in Nairobi, Kenya (GMT+3).
The International Day of Light celebrates the role light plays in science, culture and art, education, and sustainable development, and in fields as diverse as medicine, communications, and energy. The celebration will allow many different sectors of society worldwide to participate in activities that demonstrates how science, technology, art and culture can help achieve the goals of UNESCO – building the foundation for peaceful societies.
Kindly register through the ZOOM Meeting Registration link which has been provided below, once you register, you will get the meeting joining details:
https://zoom.us/meeting/register/tJctcuyurjsiHdZYpNdqr3-lxkuESa02wi6Q
Keynote Speaker Details:
Dr. Naresh Chand, Associate Vice President, Chapter Relations, IEEE Photonics Society, USA
Prof. Lorenzo Pavesi, University of Trento, Italy
Prof. John Dudley, Université de Franche-Comté, France
Prof. Andrew Forbes, University of the Witwatersrand, South Africa
Prof. Fary Ghassemlooy, Northumbria University, UK
Mr. Mayur Kumar Chhipa, ISBAT University, Uganda
I look forward to seeing you at the conference.
For any inquiries, do not hesitate to contact us phone/whatsapp number: +256-757 295 474