Top Tech Skills in Demand 2022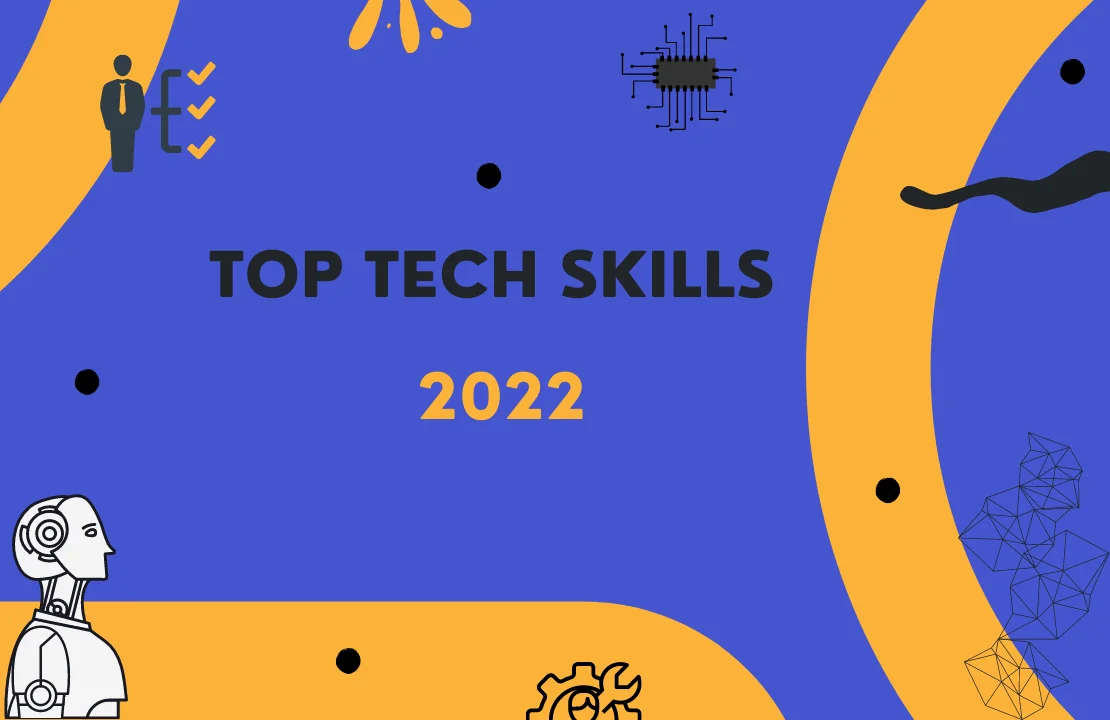 Technology companies have been the top profitable organizations for some years now, it looks like tech companies will stay on top. As we prepare to enter the endemic stage of the Covid outbreak, organizations are preparing to welcome employees back to offices. Now would be an excellent time to boost your resume by learning a new technical skill. This is especially helpful when it is aligned with industry trends. We have prepared a list of technical skills that will be in demand in 2022.
1) Cybersecurity
Cybersecurity involves protecting systems, networks, and programs from attacks. Cyberattacks are usually intended to access, change, or destroy critical systems & sensitive information, extort money from the user, or interrupt the business process. Security measures are foundational to IT systems and networks; hence, the cybersecurity market has been on the rise. The cybersecurity market is projected to grow from $165.78 billion in 2021 to $366.10 billion by 2028, at a compound annual growth rate (CAGR) of 12% during the period.
The growth is mainly driven by the rise in e-commerce platforms and the advent of core technologies such as AI, cloud computing, or the internet of things (IoT). Market leaders are always looking for AI-supported cybersecurity experts. The skills required to be a cybersecurity expert are:
Data encryption
Installing firewalls and routers
Risk mitigation strategy and threat analysis
Ethical hacking and penetration testing
Familiarity with physical network and software security
Knowledge of compliance regulations and standards like PCI-DSS, HIPAA, and CCPA
Popular cybersecurity jobs include cybersecurity engineer, malware analyst, penetration tester, and security architect. Average pay starts from $70,000 to $170,000 per annum. There are many online courses on Coursera and Udemy to get you started.
2) Blockchain
Blockchain is an unchanging, public register that records transactions and exchanges of an asset in a network. It has found its application as a ledger for cryptocurrencies, but it can store transactions or exchanges of any tangible (money) or intangible (patents) asset. Its applications involve any closed or open network, where transparency and traceability are required to track a multi-step exchange of things.
The blockchain market is projected to increase from $4.68 bn in 2021 to $104.19 bn in 2028. Blockchain is a growing field and one of the top skills to learn in 2022. As countries look to regulate cryptocurrencies and rise in non-fungible token (NFT) investments, the blockchain market will rise for some time. If you are interested in learning blockchain, Columbia University recommends learning the following skills:
Cybersecurity
Data structure
Cryptography
Smart contracts
Programming
Architecture
Popular blockchain roles include blockchain developer, blockchain project manager, blockchain solution architect, and Blockchain UX designer. The average pay for these roles ranges from $110,000 to $200,000 per annum. Harvard Technology and Entrepreneurship Center recommends some free courses to learn blockchain skills that you can find here.
3) UI/UX Design
User Interface (UI) and User Experience (UX) are two different fields but are often referred to as one. Don Norman is credited with coining the term user experience first. He defines it as "User experience encompasses all aspects of the end-users interaction with a company, such as its services and products. The user interface is where the interaction between humans and machine occurs." As their definition suggests, UI/UX designers can be employed in any domain where usability and end-user experience are vital. US Bureau of Labor Statistics predicts a growth of 13% or 25,500 in digital designer jobs. Skills that employers will be looking for in UI/UX designers:
Prototyping, Wireframing, User flows, Mockups
Visual design and design software
User research and usability testing
Agile
Information Architecture
Application development
Visual hierarchy
Typography
Color theory
Animation
A/B testing
You can learn UI/UX design from top UX design certification programs such as the Google UX design professional certificate, Nielsen Norman Group UX certification program, or Springboard UX certification program. Popular job titles for UI/UX designers are:
UX Designer
UX Unicorn (yes, it's real! )
Product Designer
Content Strategist
UX researcher
Visual Designer
The average salary range for UI/UX is $70,000 per annum for entry-level roles and $170,000-$200,000 for senior positions.
4) Augmented Reality (AR) & Virtual Reality (VR)
Augmented reality involves some digital elements in a live view of physical reality. Virtual reality implies a complete immersion into a virtual digital reality shut off from the physical world. There is two further points of differentiation, mixed and extended reality. Mixed reality (MR) combines elements of both AR and VR. Microsoft's HoloLens is one of the notable MR apparatuses. The extended reality, also referred to as XR, is an umbrella term for technologies that enhance our senses, providing additional information about physical reality or creating simulated experiences from a virtual world.
Experts predict that by 2030, many people will be in the metaverse somehow. Meta, formerly Facebook, will be investing $10 billion in VR and XR technologies and plans to hire 10,000 people for their European operations. Market research predicts AR and VR will rise to $766 billion by the end of 2025. If you are interested in learning about AR and VR technologies, visit edX for free courses from faculties from the University of California, San Diego, and Rochester Institute of Technology.
Job titles for people working in AR, VR MR, and XR include VR/AR developer, design architect, 3D artist, and software designer. The average salary for an AR/VR developer in the USA is $81,000 per annum. As the industry expands with investments from tech giants, wages are expected to rise exponentially.
5) Software development
According to a LinkedIn report, Digital Fluency is one of the two top skills for the future of work. It reflects an individual's technological skills to effectively operate in an increasingly digital workplace, involving everything from MS office to advanced artificial intelligence. Since the COVID-19 outbreak, organizations have been forced to migrate to remote working and develop or revamp their digital infrastructure. This has led to an increase in Software development jobs. Learning popular coding languages like Java, JavaScript, Python, PHP, and C++ can boost your skillset and enhance your resume. Types of jobs you can land by learning programming:
Mobile app developer
Computer programmer
Software engineer
Programmer Analyst
Web developer
Computer systems engineer
An emerging trend in the industry is hyper-automation. It is a process through which organizations automate complex business processes and operations using AI, low-code application platforms (LCAP), robotic process automation (RPA), and virtual assistants. These technologies are process-agnostic software, making them useful in multiple IT & business use cases in any industry. Several online courses and products are available on RPA, LCAP, and AI to learn more about hyper-automation.
According to a report by Gartner Inc., the market for hyper-automation technologies will reach $600 billion in evaluation by 2022. Technology specialists and automation test specialists are the top 2 of 10 in-demand jobs on LinkedIn. The average salary for an ML engineer in the USA is $131,000  and for an RPA developer is $100,000. Popular job titles in RPA & AI include:
RPS architect
RPA developer
RPA analyst
AI engineer
ML engineer
Intelligence designer
Digital knowledge manager
6) Cloud Computing
Cloud computing involves delivering services in an on-demand access model through the internet. These computing services include servers, storage, software, database, analytics, networking, and intelligence hosted at a remote data center managed by cloud service providers (CSP). Organizations employ cloud services as they benefit them by operating at lower costs, running infrastructure more efficiently, and scaling their digital infrastructure as per business needs. There are four types of services in cloud computing:
Software as a Service (SaaS)
Platform as a Service (PaaS)
Infrastructure as a Service (IaaS)
Serverless Computing
The global cloud computing market is projected to grow from $250.04 billion in 2021 to $791.48 billion in 2028 at a compound annual growth rate (CAGR) of 17.9% during the period. This rise in the market will accompany a steady increase in cloud computing jobs. In addition, the increase in remote work has led to the rise in remote computing requirements. This has increased the demand for cloud computing experts. Amazon web services, Microsoft Azure, Google cloud platform, and IBM are CSP leaders. You can check their respective websites to start learning cloud computing with free training or certification courses. The average salary for job roles in cloud computing ranges from $70,000 to $250,000 per annum. Some common cloud computing specialist roles are:
Cloud Engineer
Cloud Architect
Cloud Consultant
DevOps Cloud Engineer
Cloud Infrastructure Engineer
Cloud Security Engineer
Cloud System Administrator
UI Designer
7) Digital Marketing
We are spending more time on our screens than ever. As identified by a recent study, people in the USA spend 17+ hours in front of a screen every day. The organizations respond accordingly, constantly increasing their digital marketing budgets. Digital marketing promotes products and services through the internet using smartphones, computers, and tablets. We are transitioning into the phase of online consumerism. Millions of people purchase products and services from the comfort of their homes, so businesses are in a race to ensure they are digitally visible and accessible. Employers look for the following digital marketing skills in candidates:
Search Engine Optimization (SEO)
Search Engine Marketing (SEM)
Data-driven marketing
E-commerce marketing
Social media marketing
Social media optimization
Display ads
Email marketing
Copywriting
According to a report by grand research view, the digital marketing software market is expected to grow at a CAGR of 18.2%, from $56.52 billion in 2021 to $182.21 billion in 2028. As a result, employers are keen on hiring quality talent for the coming surge in the digital marketing landscape. In a recent report from LinkedIn, the number of digital marketing jobs has increased by 63% in the first six months of 2021. Between June 2020 to 2021, there were 381,000 marketing jobs, including 17,000 remote jobs. The salary for digital marketing jobs ranges from $60,000 to $180,000 per annum. Some of the popular job titles include:
Digital strategist
Digital marketing manager
Pay-per-click manager
SEM manager
Paid search manager
SEM Specialist
SEO Specialist
SEO manager
Web marketing specialist
8) Data Literacy
Advancements in machine learning (ML) and artificial intelligence (AI) sparked a global demand for data. AI goes through millions of data entries to understand and provide solutions. In addition, as more companies are starting to rely on hyper-automation for repetitive tasks, the need for data literacy is penetrating all aspects of businesses.
A study found that 93% of business leaders believe that data literacy is vital for their company. However, only 24% of the global workforce considers themselves competent in understanding, analyze, and report data. Skills in SQL, data extraction, big data analysis, and R (programming language) are less in demand, as most of these technologies can now be embedded into the data platforms. According to HBR, organizations currently suffer from a lack of data-driven problem-solving skills.
More specifically, employees lack the skills to:
Ask the right questions
Understand which data is relevant and how to test the validity of the available data
Interpret the data well, so the results are valuable and meaningful
Test hypotheses using A/B tests to see what results the pan out
Create easy-to-understand visualizations so leaders understand the results
Tell a story to help decision-makers see the big picture and act on the results of the analysis
Check out the data literacy course Johns Hopkins University faculty developed on Coursera to start your learning journey. The average salary for a data scientist in the USA is $63,000 and can go up to $250,000 depending upon company and ]experience. Some popular job titles for data science jobs are:
Data scientist
Data Engineer
Data analyst
Data Architect
Business intelligence developer
Data storyteller
Data administrator
9) DevOps
DevOps is a set of practices, cultural philosophies, and tools that combines software development (Dev) and IT operations (ops), increasing an organization's ability to deliver applications and services promptly. Under the DevOps model, the development and operations teams work together. For example, the same engineering team works across the entire application lifecycle, from planning to development to deployment to testing. If security is a project's priority, security teams are also involved in the model, referred to as DevSecOps. Employers look for the following skills in a DevOps engineer:
Collaboration
Communication
Understanding of relevant tools & platforms
Automation skills
Cybersecurity
Cloud computing
Coding and scripting
Product testing
UI/UX
According to the US Bureau of Labor Statistics, DevOps engineer jobs are expected to rise by 22% between 2020 and 2030, much faster than other professions. This rise comes with the sudden migration to remote and hybrid working models in response to the pandemic. If you are interested in becoming a certified DevOps engineer, you can get certifications from Amazon and Microsoft to boost your resume. The average salary for a DevOps engineer in the USA is $110,000 and can go up to $200,000 depending upon the company and years of experience. Job roles in a DevOps team include:
DevOps Architect
DevOps manager
Product owner
DevOps software developer
Build Engineer
DevOps system Admin
Security Engineer
DevOps evangelist